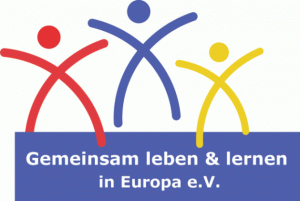 The NGO "Gemeinsam leben und lernen in Europa e. V." (GLL) is a private grassroot NGO in the region of eastern Bavaria, with its head office in Passau.
The main emphasis of GLLs work is to promote volunteering and initiate cooperation, activities and projects among the different individuals, organizations and communities who are all working to eliminate discrimination and inequality, wherever it appears. So therefore members of the organisation are local communities, districts, social organisations, private companies, decision makers and citizens.
The promotion of equal opportunity for everyone is combated by voluntary projects and mainstreaming activities in the field of a) promotion of lifelong learning, b) fighting discrimination and racism by promoting tolerance and diversity, c) advancement of volunteer work within the community, d) the support of disadvantaged target groups, e) educational work, f) gender mainstreaming activities and g) innovative form of mainstreaming activities. GLL promotes mutual understanding and learning of each other as well as cooperation between all age groups as well as the people in Europe.
Our main target groups are disadvantaged groups like migrants, refugees, socially excluded people, disabled people or people with health restrictions, because they are particularly affected by discrimination and inequality. GLLs goal is promote their integration into society by means of the volunteer activities and measures of their association and active involvement of the various target groups.
As an expert in the field of volunteer work, GLL provides some innovative measures for promoting and supporting volunteer work within the community. GLL runs an online platform on volunteer workplaces, provides training as well as advice and support services for volunteers. Moreover, GLL supports other NGOs recruiting new volunteers, organises an annual volunteer fair or information sessions on volunteering, and initiated a lot of volunteer projects, where a lot of people with various backgrounds (age, gender, race, religion, education, profession) become active on local level. Volunteers run and implement most of our projects; a lot of them are unemployed or disadvantaged in some ways. GLL has also initiated and coordinate several Grundtvig learning partnerships and Erasmus+ projects in the field of volunteering.
To promote active citizenship, participation and empowerment of refugees and migrants, GLL runs a so called "Community room" – a physical nice little centre a free place for meeting, learning, and encounter. Additionally GLL runs an international womens' club and café, organises social activities, offers counselling and training for refugees and migrants to become volunteers (e.g. as intercultural trainers in workshops for children) and involves refugees and migrants in their own volunteer programmes. GLL runs three successful volunteer language mentoring programmes for kids, young and adult refugees, who can't speak German. Additionally GLL provides online information platforms for refugees and migrants, providing all relevant information living, learning, working in Germany in different languages. Through its information campaigns and sessions, film festivals and programs GLL tries to raise public awareness on the social exclusion of migrants and refugees and promotes ways of inclusion.
Local projects are linked on European level (e.g. through Grundtvig learning partnerships and Erasmus+), as the promotion of intercultural learning and understanding within Europe plus the exchange of best practices and face-to-face cooperation with European partners is a core issue within GLL.
For its efforts in the field of integration of migrants, promoting the European ideas and volunteering GLL had won many awards, such as the "European Citizen's Prize" of the European Parliament (2015), the award "Europa-Lillie" by the Europa Union Professional (2014); the "Active Citizens of Europa Award" by Volonteurope (2014)
Read more at: www.gemeinsam-in-europa.de